Become a Member
Preserve. Conserve. Support.
Your membership makes a real difference
Please join others in our community today in preserving and interpreting the dynamic heritage, ancient cultural history and sensitive natural systems of the Jupiter Inlet Lighthouse Outstanding Natural Area and the Loxahatchee River region. Your membership…
Preserves the 1860 Lighthouse, Museum and other historic structures
Conserves our historic collection of artifacts and photographs
Supports and expands our engaging programs and visitor services
Provides free field trips for Title 1 schools
Offers free admission for Active Duty US Military personnel and their immediate families
Is a gift to thousands of others that will be appreciated well into the future!
All members receive a Lighthouse and Museum Annual Pass. Learn more about the benefits of your membership here.
Corporate Membership
Local Area Businesses play an important supporting role for the Jupiter Inlet Lighthouse and Museum. They know our tax-exempt nonprofit provides a significant economic impact for our area—more than $2.6 million each year! We thank our business sponsors for their continued support and encourage you to visit their website links below. Business members periodically offer specials to JILM E-News subscribers and through social media. Be sure to sign up to receive our monthly E-News calendar at the bottom of the page. Learn more about our range of membership levels and Corporate Membership Benefits here.
We're Grateful for the Support Provided by Our Corporate Members
Business Sponsor Members
Precision Contracting Services
Allstate Computers
Business Friend Members
Prosperity Insurance Group
Tradewinds Travel Service
2JData
All Memberships are Non-Refundable
The Loxahatchee River Historical Society is an independent nonprofit membership organization with 501(c)(3) federal tax-exempt status. The Society is registered with the Florida Department of Agriculture & Consumer Services as #CH3759. The Society does not employ or receive services of any professional solicitor. All contributions made to the Society are used exclusively and entirely for Society services, programs and operation.
A COPY OF THE OFFICIAL REGISTRATION AND FINANCIAL INFORMATION MAY BE OBTAINED FROM THE DIVISION OF CONSUMER SERVICES BY CALLING TOLL-FREE (800-435-7352) WITHIN THE STATE. REGISTRATION DOES NOT IMPLY ENDORSEMENT, APPROVAL, OR RECOMMENDATION BY THE STATE.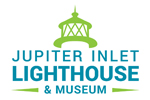 The Jupiter Inlet Lighthouse & Museum is operated by the Loxahatchee River Historical Society, managing partner in the Jupiter Inlet Lighthouse Outstanding Natural Area.
Sign Up For Our Email Newsletter