Our Exhibits
Must-see stops on your Lighthouse tour
Planning your trip to the Jupiter Inlet Lighthouse? You'll find everything you need to know about the many different things to see and do when you visit on this page. Learn about the diverse history of our area through series of interactive exhibits chronicling the lives of Native Americans, early pioneers, Lighthouse keepers and more. Nature lovers should not miss the Jupiter Inlet Lighthouse Outstanding Natural Area, which features 120 acres of rich Florida wilderness.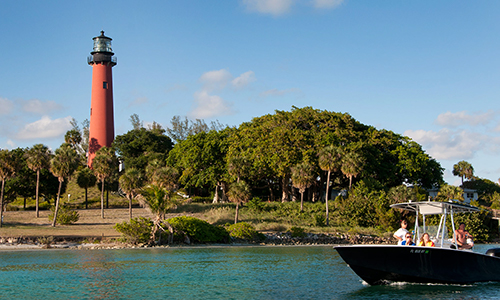 Lighthouse
Special Note February 2022: The Lighthouse Lens is currently wrapped for protection during the US 1 Bridge construction project and temporary light is being used as an aid to mariners.
Some of the best views in the country are waiting for you atop this historic lighthouse, whose presence has played a vitally significant maritime and communications role since 1860, saving countless ships from wrecking along reefs and shoals between the Florida coast and the Gulf Stream.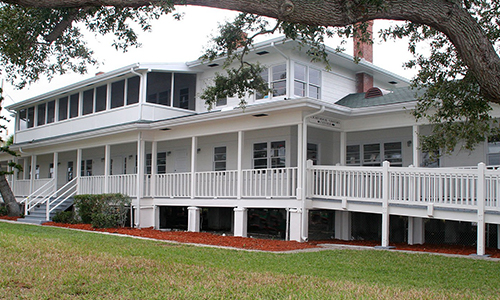 Museum & Secret Station J
Special Notice: Beginning January 17, 2022, the Museum exhibit will be closed due to the US 1 Bridge construction project.

Explore the Museum to discover fascinating history in the exhibit Five Thousand Years on the Loxahatchee, watch a video about the Jupiter Inlet Lighthouse, and check out our terrific Museum Gift Shop. The museum is housed in the last remaining building from an important World War II naval radio station, code-named Station J.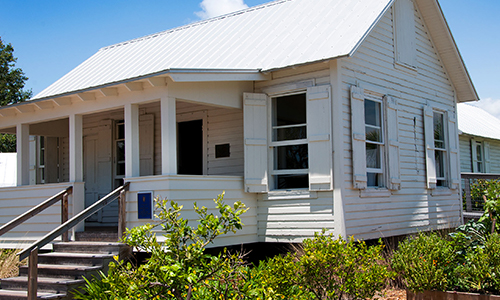 Tindall Pioneer House
The earliest house still existing in Jupiter, the Tindall Pioneer Homestead gives visitors a glimpse of early life along the Loxahatchee for brave pioneers. Both house and kitchen are furnished from our Museum's collection, including the food safe and kitchen table from the Carlin House.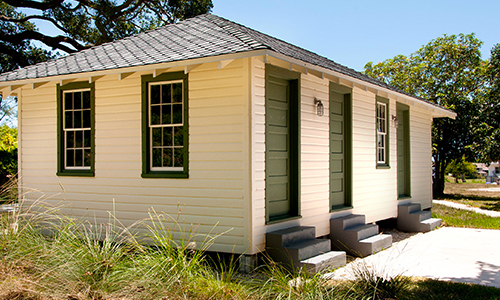 Keeper's Workshop & Deck
The area at the base of the lighthouse is a tribute to the work of the Lighthouse Keepers and their families. Although their houses and some of the Light Station buildings no longer exist, we are dedicated to preserving their lives and history.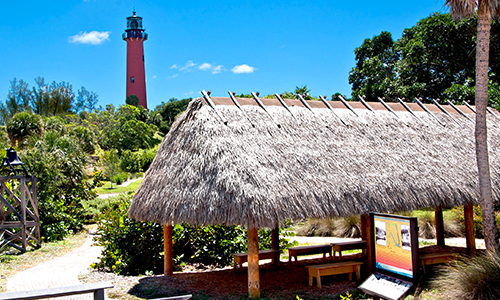 Seminole Chickee
The Seminole Chickee was constructed in May of 2009 by James Billie, Chairman of the Seminole Tribe of Florida, as a tribute to the history of Seminoles people in this area and their trade relationship with early settlers and Lighthouse Keepers.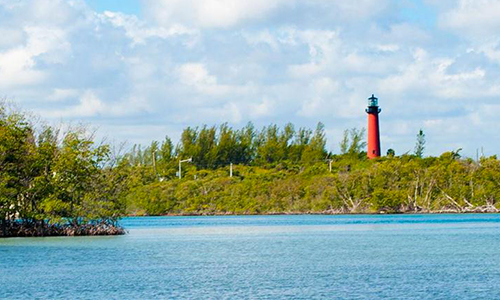 Outstanding Natural Area
Featuring 25 special-status species, cultural evidence of 5,000 years of human occupation and a north-side hiking trail to a lagoon overlook through three Florida habitats, the Outstanding Natural Area is a must-see for anyone visiting the Lighthouse.

The Jupiter Inlet Lighthouse & Museum is operated by the Loxahatchee River Historical Society, managing partner in the Jupiter Inlet Lighthouse Outstanding Natural Area.
Sign Up For Our Email Newsletter