Honorary Co-Chairs:
Charles Modica & Joe Namath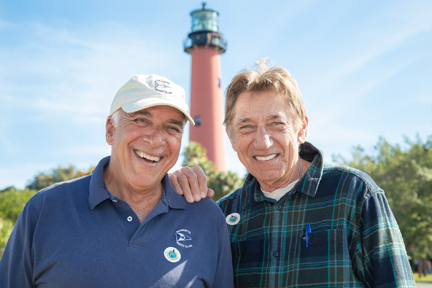 Lighthouse Luminary Mission:
Lighthouse Luminaries are Ambassadors for the Jupiter Inlet Lighthouse and Museum who meet socially to promote and fund-raise for the preservation of the Lighthouse and other historic buildings on the site.
Proceeds of Luncheon:
Funds raised will support painting the interior and exterior of the historic 1860 Lighthouse, a project that takes place every 10 years.
Tickets
$125 per person
$1,250 table of 10 host
$250 per person Includes luncheon plus VIP Meet & Greet
Champagne Reception
Sponsorship
Luminary Friend Support   $500
Gold Sponsors*   $2,500
Platinum Sponsors*   $5,000
Presenting Luncheon Sponsor*   $10,000
Underwriting
Wine   $5,000
VIP Champagne Reception   $3,000 SOLD
Valet   $1,750
Photography   $1,500
Décor   $1,000
Invitation   $750
Postage   $500
Printing   $500
Raffle Tickets available for purchase
Join the Luminary Committee
Lighthouse Luminary Committee 2019, Chair Mimi Vaughan
Marlene Bennett, Kim Smith, Kim Hagan, Kelly Parkey, Chair Mimi Vaughan, Kelly Linhoss, Tonya Love-Cheatham, Cari Rentas, Belle Forino, Andrea Aitken, Andrea Albertini. (not present: Catherine Tolton, Joannie Danielides, Rebecca Seelig, Carolyn Broadhead, Kristen Cashel, Shani Core, Sherry Schattie, Paige Vaughan).

The Jupiter Inlet Lighthouse & Museum is operated by the Loxahatchee River Historical Society, managing partner in the Jupiter Inlet Lighthouse Outstanding Natural Area.
Sign Up For Our Email Newsletter