Calling all Plein-Air artists & Photographers
We are opening the site to artists to capture the beauty of the Outstanding Natural Area on this special day.   Artists may share their work with us on social media during and after the event using the hashtag #10YearsJILONA.  Coffee and cookies will be available at the Lighthouse deck. Artists must bring their  materials and agree to be photographed during the day. Adults are $10 each, Children are Free.  Time: 10:00 am – 5:00 pm.
Learn to Fish with the Pros!
Children and Families are invite to learn the art and sport of Fishing. Equipment will be provided. Guidance will be given by www.fishingCommunity.org,  coming all the way from Virginia to offer this special program.   Children are FREE, Adults $10. Please RSVP for numbers. Time: 1:00pm – 5:00 pm.
About Fishing Community (FCO):  www.fishingcommunity.org is a non-profit 501(c)(3) organization that meets the special-case needs of military members, veterans and those who are transitioning out of the military with speed and flexibility not always available through the traditional programs. FCO offers fishing days, family fishing tournaments, fishing classes and education, and supports other community related veteran and fishing events.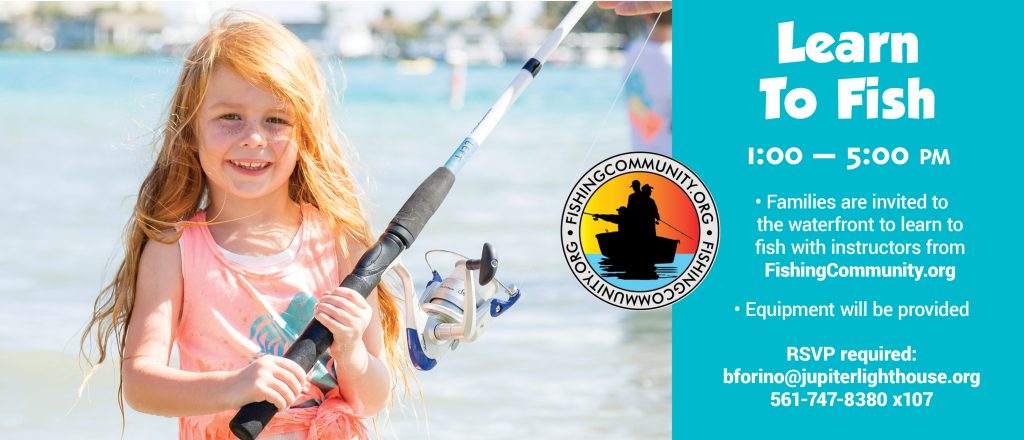 10th Anniversary Celebration
We will be hosting a VIP event at the Lighthouse deck from 5:30-7:30 pm. More information at bforino@jupiterlighthouse.org
Sponsored by 1000 North and Florida Power & Light

The Jupiter Inlet Lighthouse & Museum is operated by the Loxahatchee River Historical Society, managing partner in the Jupiter Inlet Lighthouse Outstanding Natural Area.
Sign Up For Our Email Newsletter